One of the best lake in Iran, Gahar lake  is a natural lake in Lorestan province near Doroud city, in Bakhtiyari dialect, Gohar's word meaning is where collected water, the lake is caused by an earthquake on the 23rd of January in 1909, of course, this time is not exact, the lake is in Oshtorankoh protected area, length's lake is about 1700 m, average width is 500 m, 2360 m above free water level, the deepest point of the lake is about 28 m, there are many kinds of the tree around the lake, for example, weeping will, juniper(Avorse in Bakhtiyari dialect), forest walnut, forest grape and etc, there are  to lake in Gahar area(lake down, lake top), the lake down is bigger than the lake top, notice to this point that  lake top is small and the main lake is lake down, the between lakes there is a grove and a river, which this river runs from lake top to the lake down, also a river from the lake down to outside, the water lake is from snow melting also several fountains in the lake floor.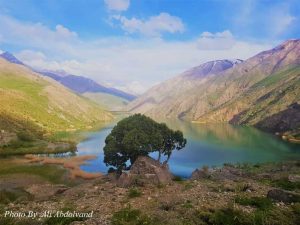 How can go to the Gahar lake?
To reach the lake you should go the 38 km, of course, you can go 20 km by car to kal'mahmod(native name) source or Khoram source. from Khoram source, you should walk about 18 km, but don't worry about walking because there are beautiful mountains, amazing rivers, in the path. after 3 or 4.5 hours walking in mountains, you arrived in the lake. I recommend that amateur tourist have a tour guide.there are three ways for going to Gahar lake:
Doroud city includes 20 km with a car and 18 km of mountaineering(best path).
Azna city, this path is very hard, and for the professional climbers, because you have to pass Oshtorankoh mountain with 4150 m high (8th peak of Iran in high), you need a guide.
Aligodarz city, this path is not the good suggestion, because most of the path should go by car in nature, in my opinion, it's very bad.
path
After 20km by car, you will reach to kal'mahmod source. after this water source, walking begins. the first camp for rest is Gale-Chir(Chir is a small wall, which made with big stone, Gale-Chir'maening is "next to the wall" and this word is a native word), when you arrived in the Gale-Chir, there are to path, one of for Gahar lake and one of for Neygah Valley.the second camp is above of Pambe-Kar(cotton planting, of course, in past not now), this mountain(Pambe-Kar) has a steep slope. the down of Pambe-Kar is the third camp and there is a water source(middle camp), there are several W.C in this camp. after middle camp you've traveled halfway, you are near a river, there is a bridge for the passing of the river. notice to this point that sometimes there isn't a bridge(more in Spring and Winter) because there is a lot of water and the bridge is broken. you should be walking on along the river route, after 30 minutes you will reach to Sepid-Aab source(whitewater), which water's source is very cold and very clean, here is the fourth camp. next step is Khoda-Ghovat hill, after this hill you reached to Gahar lake, you can go to the Gahar from 4th of June to 7th of October in spring and summer in another season lake is close.
properties of lake
Gahar in under the Oshtorankoh mountain, the Gahar is famous for its sweet water and its cold water, wetter of this lake is turquoise and light blue.there are several kinds of fish, for example, Rainbow trout, Salmo trutta fario, and etc. fishing, swimming and relax next to the lake are the best thing for doing.